About Lions Bay Fire Rescue
Lions Bay Fire Rescue (LBFR) is committed to protecting life, property and the environment. The department consists of 25 paid on call firefighters, 3 fire apparatus, 1 station and 1 training facility. They serve the town's approximate 500 homes and 1,500 citizens. The department responds to a variety of emergency incidents including medical, fire, technical rescue, forest interface, motor vehicle accidents, and public service. LBFR works to ensure the safety of all who work, live and travel through our community.
LBFR not only serves the Village of Lions Bay and its residents but also responds to incidents along the Sea to Sky Highway (HWY 99). The 26-kilometer stretch of highway from West Vancouver to Britannia Beach generates approximately 75% of our call volume.
Our members are required to hold completed NFPA 1001 level 1 and 2 and first responder medical training. LBFR prides itself with highest level of training provided to its members, we continue to train in areas such as advanced auto extrication, forestry firefighting, first responder medical training, technical rope rescue, fire ground operations, and officer development.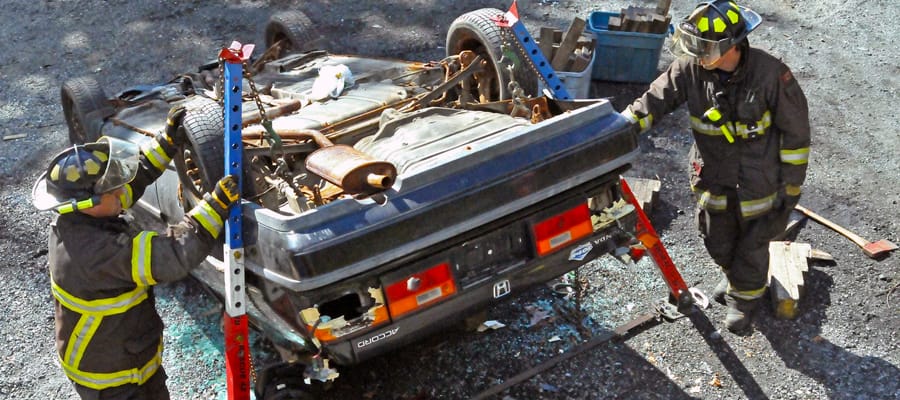 The training division of Lions Bay Fire Rescue has a training facility within the Village of Lions Bay's boundaries that consists of a classroom building, burn building, vehicle extrication area, and areas to conduct technical rope rescue scenarios. The training facility allows the members to stay highly trained in order to protect both the community as well as the Sea to Sky corridor.
The extensive training that is conducted at LBFR requires the leadership and expertise of a highly experienced training officer. Captain Bob Allan has been a firefighter for over 30 years. Serving not only a career firefighter and captain, he has travelled across the country instructing auto extrication, fire ground operations and fire officer courses to career and volunteer departments.
Lions Bay Fire Rescue (LBFR) relies on fundraising activities to maintain the level of service that is necessary to provide to the public. Although the Village of Lions Bay funds our department, the budget generated from the tax base is not enough to support the requirements outlined in the NFPA (National Fire Prevention Association) standards.
Nearly all of our efforts are concentrated to one event held at the end of the summer every year, Firefighters' Day.
Firefighters' day is a one-day celebration held at the Lions Bay Beach Park and takes place in the beginning of September of each year. It is one of the best attended events held in the Village of Lions Bay. Festivities include:
Live music
A silent auction
Raffle prizes
Our famous BBQ
Adult beverage area
Children's' activities
An auto extrication demonstration, and best of all
An opportunity to meet the Lions Bay firefighters and have a great time.
One of the ways we are able to raise money at this event is through our silent auction and raffle. If you have anything you would like to donate or are interested in how you can help please send us an e-mail at info@lionsbayfirerescue.ca
Lions Bay Fire Rescue (LBFR) was first established in 1971 by Mayor A.M. Stewart. Since this time the volunteer department has grown into one of the most prestigious volunteer fire departments in British Columbia.
Fire Chief Gary Ingram purchased the first fire apparatus in 1971. The second hand engine was a rickety 1941 GMC front mounted pump engine. During these early stages of the department, Fire Chief Ingram was in charge of the night and weekend male volunteers. Captain Sharon Dairymple and the female volunteers provided weekday coverage while the men were at work in the city. In 1973 the department made the front page of the Vancouver Sun because of their efforts.
As the department evolved so did the fire trucks. In 1974 Lions Bay Fire Rescue purchased their second truck, a 1954 GMC mid-mount pumper. The apparatus was housed in the small fire hall located in the now community centre and Village of Lions Bay office.
In 1980 the fire hall was relocated to its present location at 400 Centre Road. In years to come, LBFR purchased a number of used apparatus from Greater Vancouver departments. They included a 1979 Ford and two 1983 GMC's. In 2011 the last of these apparatus was sold to aid in the purchase our new Engine 62.
2006-Present

Andrew Oliver

2005-2006

Fred Bain

2001-2005

Andrew Oliver

2000-2001

Rick Wilson

1999

A.J. Jordan

1996-1999

Andre Berard

1994-1996

Gordon Prescott

1974-1994

David Pullen

1968-1974

Gary Ingram